Got Pests?
A little about Pests
Ants
Property Shield is unmatched in providing ant control in the Inland Northwest.
Property Shield controls many different types of ants in our area:
Carpenter ants, odorous house ants, moisture ants, Argentine ants, pharaoh ants, thatching ants and pavement ants. Identification is not always easy, – for example, carpenter ant sizes vary greatly.
Contact us today if you need help identifying your ants.
208-889-9222 CALL NOW
Ants are the most frequent and persistent pests you will find around home and other buildings. Not only are ants a nuisance, ants contaminate your food, build unsightly mounds on your property, and cause structural damage by hollowing out wood for nesting. Species such as fire ants can inflict a sting that is painful at best and life-threatening to some. To most, ants look pretty much alike. Dozens of different species occur around homes and buildings, each having unique characteristics. Different traits require different control methods.
Ants are social insects which live together in colonies. The colonies vary in size from hundreds to millions of ants. Each colony has different types. Each type has a specific function. All ant colonies contain one or more queens. The primary role of a queen is to lay eggs. Eggs hatch into white larvae that later metamorphosis into worker ants. The workers feed and care for the queens and developing brood. Workers also forage for food and water. Ants can travel great distances from the resources. Ants lay down invisible odor trails. These trails help workers follow between food and the nest. The trail of ants is distinct enough to be followed back to the nesting location. At certain times of the year, ant colonies produce large numbers of winged swarmers. Swarmers emerge from the nest to mate and establish new colonies. If a swarm of ants emerges inside your home than a nest is most likely present within the structure. Winged ants emerging indoors can be disturbing and often mistaken for termites. Winged ants can be distinguished from termites by comparing certain features. Ants have a narrow, or pinched, waist similar to wasps. Termites are virtually the same width from end to end. Ants and termites each have four wings; however, on ants the front wings are longer than the hind wings. Termites all four wings are of equal size and length. Ant antennae are bent or "elbowed." Termite antennae are straight.
If you are are a concerned you or business has an ant issue, make your first call to Property Shield 208-889-9222
The Inland Northwest is our home. We strive to educate you, and our other customers, about insects and basic pest awareness to your family, friends and community. Our goal is to improve the quality of your health, peace of mind, and overall quality of life.
If you would like help identifying a particular ant from around your home or business feel free to reach out to us for an identification.
If you would like a professional pest inspection please call us directly at 208-889-9222 we are here for you.
Acrobat Ants
Property Shield provides expert Acrobat Ant control In the Inland Northwest.
Acrobat ants get their common name from their ability to acrobatically raise their abdomen over their thorax and head, especially when disturbed. Acrobat Ants can be found invading properties and homes across the United States. They are various colors from light brown to black. They can be found at altitudes of up to 8,000 feet.
If you think you have an Acrobat Ant problem call us today for a free estimate. Property Shield proudly provides expert pest control and Acrobat Ant control in the Inland Northwest.
Let us help you!
CALL NOW! 208-889-9222
Great for you, bad for bugs!
Argentine Ant
Property Shield provides expert Argentine Ant control in the Inland Northwest.
Argentine Ants are a small brown ant about 2-3mm long. The Argentine ant is one of the most damaging insects. This ant can drive native arthropods to extinction, instigating changes that flow through ecosystems.
The Argentine ant does not sting or bite humans. It is most notable as a nuisance pest in urban areas, especially because of the availability of water. This ant exists in backyards at high densities associated with landscape features. They enter homes through cracks and other spaces, in search of food or water.
If you think you have an Argentine Ant problem call us today for a free estimate. Property Shield proudly provides expert pest control and Argentine Ant extermination in the Inland Northwest.
If you think you have an Argentine Ant problem call us today for a free estimate. Property Shield proudly provides expert pest control and Argentine Ant control in the Inland Northwest.
Let us help you!
CALL NOW! 208-889-9222
Great for you, bad for bugs!
Carpenter Ants
Property Shield is your Carpenter Ant experts, in the Inland Northwest.
Carpenter Ants are responsible for thousands of dollars in damage to homes each year. The damage ranges from simple fence posts to major property damage in the tens of thousands of dollars. It is important to protect your home and structures from these destructive pests. Property Shield can. Many people only think they have a problem if they see ants inside. Carpenter ants nest in wall voids and other parts of structures and forage outdoors for food.  This means that often carpenter ant colonies can go unnoticed for extended periods of time.
If you see carpenter ants in your home or businesses call Property Shield, and we will come take a look for you.
If you think you have a Carpenter Ant problem call us today for a free estimate. Property Shield proudly provides expert pest control and carpenter ant extermination.
Let us help you!
CALL NOW! 208-889-9222
Great for you, bad for bugs!
Odorous House Ants
Property Shield provides expert Odorous House Ant Extermination in the Inland Northwest.
DO NOT "SPRAY" THEM WITH RETAIL PESTICIDES! This causes the colony to "clover leaf" (split into several new colonies). This will keep making the problem worse.
Odorous House Ants are true to their name and have a distinct odor of rotten coconut. Their colony has many queens and many homes. These homes are often temporary and will be found under pieces of wood or debris in landscaping. These ants will forage on honeydew from aphids living in vegetation. If there are landscaping problems and trees, shrubs, or plants are in contact with the structure, this will provide an easy access between the structure and foraging areas. Workers of this ant are all of one size. They do not cause structural damage but because of the large numbers that are often present they can be particularly obnoxious to homeowners.
The color of them varies from dark brown to black. Invasions happen during wet weather day and night. They usually forage all the day long. As all the ants they like sweet things such as sugar and honey but sometimes can eat meat and grease.
If you think you have an Odorous House Ant problem call us today for a free estimate. Property Shield proudly provides expert pest control and Odorous House Ant control in the Inland Northwest.
Let us help you!
CALL NOW! 208-889-9222
Great for you, bad for bugs!
Pavement Ants
Property Shield is you in expert Pavement Ant Extermination in the Inland Northwest.
These small brown to almost black ants often construct their nests under the foundation. Pavement ants originated in Europe and were believed to have been introduced to the United States over 150 years ago. They are now in all 50 states. Pavement ants enter homes in search of food and quickly become a nuisance. They feed on other insects, sugar and or protein-based ingredients.
A little about Pavement Ant:
Colonies are known to fight on the sidewalk in the spring, with hundreds of ants left to die.
Colonies can exceed 10,000 workers.
Innaturethey are primarily found in open fields under rocks and other debris.
In urbanenvironmentsthey prefer to nest under paved surfaces and building foundations.
Normally they have a single.
Workers can live for several years.
They forage predominately at night.
During early spring andsummerthey will also forage during the day.
Pavement ants have a sting. It is too weak to damage your skin.
If you think you have an Acrobat Ant problem call us today for a free estimate. Property Shield proudly provides expert pest control and Acrobat Ant control in the Inland Northwest.
Let us help you!
CALL NOW! 208-889-9222
Great for you, bad for bugs!
Pharaoh Ants
Property Shield provides you with expert Pharaoh Ant Extermination in the Inland Northwest.
Pharaoh ants are a small species with workers only growing to be 1/16th of an inch in length; queens are slightly larger in size and can grow to be about 1/8th of an inch in length. They have a 12-segmented antenna with a 3-segmented club on the end. These ants are pale red to yellowish-brown; their abdomens are usually darker and are sometimes almost black.
These tiny, light- tan colored ants have some of the greatest colonies in terms of shear numbers. They plaque kitchens and other areas of the home and, as happens with a few other ant species, they split their colony into multiple, separate, smaller new colonies when treated with conventional sprays.
Pharaoh ants live in very large colonies that contain hundreds of thousands of workers and hundreds of reproductive females. The life-cycle of the pharaoh ant begins with the female and male mating within the nest. A young queen and some workers, larvae, and pupae "bud" from the nest and will create a new colony in a nearby location. Worker ants develop from egg to adult in about 38 days. The lifespan of workers is about 9 to 10 weeks. Males only live for approximately 3 to 5 weeks after mating, and the queens live between 4 and 12 weeks.
Pharaoh ants are known for carrying and transmitting a large variety of bacteria and diseases including salmonella and Streptococcus. Pharaoh ants can become a huge problem inside places like hotels, grocery stores, homes, apartment complexes, and hospitals. When these ants enter hospitals, they can cause a lot of health problems by entering wounds, IV bags, and even into the mouths or eyes of sleeping patients.
If you think you have an Pharaoh Ant problem call us today for a free estimate. Property Shield proudly provides expert pest control and Pharaoh Ant control in the Inland Northwest.
Let us help you!
CALL NOW! 208-889-9222
Great for you, bad for bugs!
Bees
WE ARE BEEKEEPERS!

It seems common that if it flies and can sting it gets called a bee. It is important to know the difference between a wasps and honeybees.
Honeybees can only sting once and then they die. They cannot bite. Honeybees also have no interest in anything at your BBQ that is not made of sugar. Honeybees are NEVER any color of yellow. They are always a mixture of black and an orange color.
If it is yellow it is not a honeybee.
Honeybees are only a nuisance when they are swarming (more on that in a moment), and when they make a nest in the walls of your home. Honeybees can collect and make more than 100lbs of honey in one year. If they have gathered that into a wall or roof in your home don't spray them CALL Property Shield ASAP 208-889-9222. We have years of experience in removing honeybees from walls. We have safely removed them from yard decorations, tractors, police cars, and National Historical Monuments.
Call Property Shield it will be the best call you will make all day.
208-889-9222
Swarms

A swarm is a group of bees that have broken off from their colony. When they initially leave the colony, they will
find a temporary resting place. They rest there until they can locate a permanent residence. When bees swarm they may be flying all over in a dark cloud, and the noise they make is loud and awe-inspiring.
Bees swarm for many reasons. The most common reasons are either the queen in the original colony is aging or the colony is too large for the current home. In any event, the colony makes new queens, yes more than one.
When the new queen emerges she will usually take over the colony and the old queen will swarm out.
They may also swarm if their old home is no longer suitable. This is referred to as an "absconding" swarm.
When you see a swarm CALL US! 208-889-9222. We will come out as soon as possible and rescue the bees from their undesired resting spot. When we remove the bees we remove them to our apiary and give them a new home in a new location. In a hive they will continue doing what bees do best, pollinating and making honey. Here they have a safe place to build and grow. The hive is better suited to their needs than most places they would find in the wild. Having Property Shield capture the swarm also keeps the bees from making their new hive in your home.
Removing an established colony
When the honeybees move in to your home, it is never fun. Property Shield can help. There are many things to keep in mind when you decide on a course of action: From the time they move in they are making wax, honey, and more bees. If you choose to kill the honeybees they will leave behind everything that they have made. This can attract ants, rats and sadly more bees. The unattended wax and honey can then melt and cause extreme damage to walls floors and anything around.
Most pest companies that are willing to kill honeybees require a waiver of liability agents damage caused by the remaining wax and honey.
We offer more than just killing the bees. When appropriate, we open the wall and get out the wax, bees, and honey. The cost is only slightly more than what most pest companies are currently charging for extermination only. The benefits and peace of mind are far superior to that of only killing them.
Why did the Bees choose MY house?
Bees prefer dark cool places with a small entrance and plenty of rooms to expand in. Walls and ceilings of houses are a perfect fit for honeybees. A colony of bees only needs a hole the size of a pencil to enter a structure. They like your home as much as you do.
Call Property Shield today and we will help you with your honeybee issues!
208-889-9222
Cockroaches
Why call Property Shield First?
Free Estimates
Same Day Service, No Extra Charge if booked by 1pm
Easy Payment Plans Available
100% Guaranteed Results
Locally Owned & Operated
Fully Trained, Licensed, & Insured
CALL NOW! 208-889-9222
Contrary to popular what you have heard, even clean homes are not immune to an invasion cockroaches. Cockroaches can be difficult to eliminate without proper training and experience. If you have a cockroach problem don't worry. All you need is an experienced pest control professional.
Property Shield provides professional cockroach elimination in Idaho. Cockroaches are remarkably resilient and persistent pest that can carry and transmit a number of diseases.
Learn More About Cockroaches
Want to know if you have a Cockroach issue?
Do you see cockroaches?

The most definitive way to know you have a cockroach problem is to observe them in your home. Cockroaches are most active at night. You are most likely to see cockroaches at night, or when you turn on a light in a dark room.

Do you see droppings?

Cockroaches black or brown droppings less than 3/16in (1mm) wide and of different lengths. Seeing things like this on your counter tops, floor, or elsewhere in your home is a big sign that you may have a cockroach issue.

Is there a lingering unpleasant smell?

Established cockroaches have an unpleasant, musty smell.
Great for you, bad for bugs!
A call to Property Shield is a call to:
A locally owned and operated company; we service the community we live in.
A real live person, who lives right here in northern Idaho.
People that value you and your time.
A company that is dedicated to working with you to schedule a service time that is best for you.
We provide SAME DAY SERVICE!
Open 24/7
When you call Property Shield you are calling a locally owned and operated company. We serve the communities we live in. We value your time. When you call you will speak with one of the owners, not some computer.
Learn More about roaches
Cockroaches, what you need to know?
Do you find cockroaches disgusting? Does seeing one make you feel "gorse?"
You are not alone! Most people despise them. Some concerns are based in public health problem by contaminating food and eating utensils. Cockroaches are a known to carry of pathogens. They include Salmonella and E. coli. These can lead to sickness and diseases, like food poisoning or dysentery. They can destroy fabric and paper products. Cockroaches can stain clothing, surfaces, and other items.
Biology
Cockroaches have a three-stage life cycle: egg, nymph, and adult. Adult cockroaches lay eggs contained within egg cases that are dark-colored and about the same size and shape as a dry kidney bean. Egg cases contain between 16 – 50 eggs depending on species. When eggs hatch nymphs emerge. Nymphs typically are outnumber the adults. Cockroaches are nocturnal, hiding during the day and becoming more active at dark.
Prevention, its better than a cure.
Prevent the Intrusion in the first place
A group of cockroaches is called an "Intrusion." Cockroaches are very sneaky. They be carried into your home in computer cases, boxes, bags, and luggage. Cardboard boxes are very common way infestations begin. Examine the boxes and other things you bring into your home. Look for cockroaches and/or egg capsules. If the items are coming from a location you know has cockroaches be extra cautious. Sanitation is the number one key to preventing cockroaches from getting a foot hold.
Sanitation, stop feeding them
Cockroaches best food sources are the tiniest of crumbs. This makes sanitation on the top of the list for combating a cockroach infestation. A cockroach needs water and food survive. Remove the food and the water removes their ability to sustain the population. Making a building 100% inhospitable to cockroaches is not a reality. Your goal should be to clean everything you can to the best ability. A cockroach has the ability to feed off almost anything. Cockroach nymphs often feed off the feces of the adults, (now that is a desire to survive I do not possess). Your goal is to reduce the current Intrusion by minimize the available resources by improving the level of sanitation.
Getting things cleaned up
Here is a quick list of what to do to improve sanitation.
Never leave open food out over night

Stored food in a refrigerator or in sealed containers.

Keep the dishes done

Wash your dishes, pans, and utensils as soon as you are done using them.
Than put them away promptly.

Put the pet food and water away at night.
Keep the counters, tables and floors clean

Food or spilled drinks need to be cleaned up as soon as they happen.
Wash out the sinks with soapy water before you leave and at night.

Vacuum all the cracks and crevices.
Sweep and/or vacuum all floors.
Store trash outside, not in the garage or other building.
Keep the trash containers clean as well
Take garbage out every day
Fix the drips.

The small amount of water from a leaking pipe can sustain dozens of cockroaches
Dry the water. Increase the airflow where you find condensation.
CALL NOW! 208-889-9222
Shield your home. Choose Property Shield!
Boxelder Bugs
Earwigs
European Hornets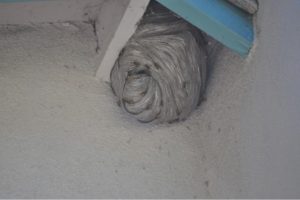 Fleas
You are not alone, fleas are a more common problem in the Inland Northwest than you may think. Don't feel guilty or bad over a flea issue. The wild life we love so much can often be the very source of the fleas in the first place.
Protect your pets & home from fleas!
Property Shield provides expert Flea extermination in the Inland Northwest!
Call Now! 208-889-9222
Fleas feed on pets and humans. Some people and pest have allergic reactions to flea bites. When dealing with a flea infestation, Property Shield takes a multi-faceted approach. We do not simply address the affected pet but the yard and home. We also take time for address the conditions that allowed the fleas to get a foothold in the first place. If your pet or home has fleas, call us today. 208-889-9222.
Fleas are a major disruption to your pet's health, your home, and your wellbeing. You deserve a company you can trust. If you think you have a Flea problem call us today for a free estimate.
Let us help you!
Learn More About Fleas
Two Easy Ways To Identify A Flea Infestation
The most common sign of a flea issue is pets one or more pets that are constantly scratching and grooming themselves. This is caused by discomfort from fleas biting your pet to feed on the blood. A thorough examination of the pet's fur by you or your vet should be done.
Flea feces can also help identify an infestation. Flea feces looks like coarse ground pepper and might be seen near a pets bed, carpets, rugs or other areas where your pet rests.
Remember fleas are NOT bed bugs!
CALL Property Shield TODAY! 208-889-9222.
What to expect from your Property Shield flea treatment:
We TARGET THE SOURCE: First we identify and target the source of your pest problem with our custom treatment. This often includes the pets sleeping area.
Inside: We then treat the affected area and adjacent areas. Wherever there is the possibility for a flea to enter your home we create a barrier to protect you. We deploy a variety of techniques depending on what works best for your situation. Some of the tools we may use are including: residual flea products, powders, and gel.
Outside: We create a protective barrier around your homes foundation. We then treat all access points for the fleas to keep them OUT! We will also may use bait in your flower and mulch beds to destroy any fleas that take refuge there.
Call now 208-889-9222
House Crickets
Coming soon!
Mice
Coming soon!
Paper Wasps
Coming soon. But they suck and are not nice….
Rats
Coming soon.
Stink Bugs
Coming soon.
Spiders
Coming soon.
Hobo Spiders
House Spiders
Garden Spiders
White Faced Hornets
Coming soon.
Yellow Jackets
Coming soon.